Thanks to Erin, one of our faithful PhillyD app users, we have discovered a bug in our app framework.  It seems that the folks at YouTube have slightly changed the API responsible for posting comment replies.  Comments post fine, but when you try to reply to another user's comment, you get an error that looks like this: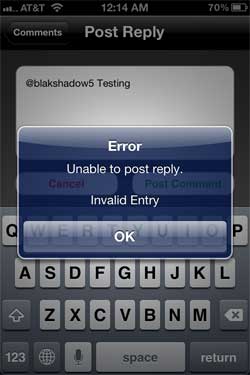 I am coding the fix for this now, and it will be in all of the updates – which I will be submitting to Apple this weekend.
Thank you to Erin for reporting this issue.  If you are reading this message and you know of any other bugs, or have feature suggestions – please let us know by using the contact button on the About tab – located under "More" from the main tab bar in any of our apps.